Our rich Cabernet Sauvignon is made with some of the world's finest grapes.
Vintage:
2016
Wine Type:
Red
Designation:
Grand Reserve
Region:
Napa Valley
Winemaker:
Don Baker
Volume:
750mL
Cabernet Sauvignon
The big, bold Cabernet Sauvignon is the world's most popular red wine, and those from California's Napa Valley are among the most coveted. It's the perfect taste companion to a wide array of foods, and a good wine selection at any time.
Cabernet Sauvignon originated in southwestern France in the 1600s, when a red Cabernet Franc grape was accidentally crossed with a white Sauvignon Blanc grape.
The result was a juicy Cabernet Sauvignon grape with a thick, durable skin that was easy to grow and could be successfully aged in the bottle. Moreover, aging Cabernet Sauvignon in oak barrels brought out even richer flavors and produced a full-bodied wine. Little wonder that the Cabernet Sauvignon grape became immensely popular with winemakers in Bordeaux and then spread across the world.
Eventually, the grape was grown in California's warm, dry climate, where winemakers began to produce wines comparable to their famous French cousins. By 1976 a California Cabernet Sauvignon beat out several French Bordeaux to win the prestigious Judgement of Paris, and Napa Valley wines finally got their due.
Cabernet Sauvignon is known for its deep, rich color, full body and medium acidity. Typically, it's a dry wine, not sweet, but full of flavor that pairs well with many fine foods.
Pillar's own lush Cabernet Sauvignon originates from grapes harvested in select vineyards in the world-famous Napa Valley of California. Handcrafted in extremely limited quantities, it's a refreshing, versatile wine brimming with bright juicy character and toasty oak aromas. It boasts ripe flavors of black currant, plum and fig laved with notes of cedar, nutmeg and vanilla.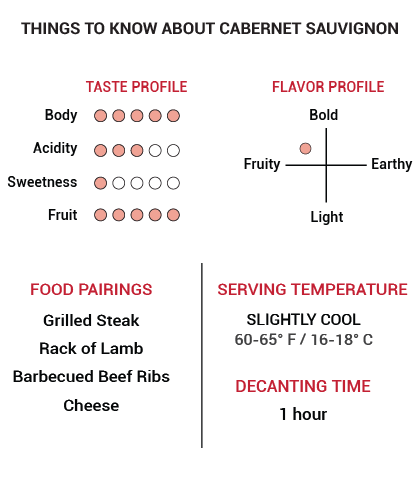 Learn more about how to enjoy this exceptional wine in our Wine Guide pages, including wine flavors, barrel aging, and how to properly serve, taste and decant wine.